Dr. David Franz, DDS - Cincinnati Cosmetic Dentist
Dr. David Franz is committed to providing excellence in dentistry, and stands out as a leading dentist in Cincinnati. The doctor uses the latest in dentistry techniques to provide you with a beautiful and healthy smile. Additionally, Dr. David Franz believes strongly in education to prevent oral health problems before they occur, and makes sure to keep patients fully informed about their dental health. Read more about Cincinnati dentist Dr. David Franz below.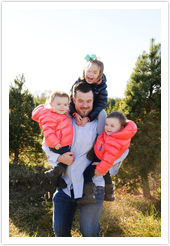 David J. Franz, DDS
Dr. Franz is a general dentist in northern Cincinnati. Originally from Evansville, IN, he received his undergraduate eduation at Butler University followed by Indiana University School of Dentistry. Following his formal dental education he completed a residency at Miami Valley Hospital in Dayton, OH. He has an interest in all areas of dentistry from preventative to cosmetic dentistry. No matter what treatment you may need, quality and longevity are of utmost importance.
On a personal note, Dr. Franz was recently married to his wife, Molly, at the Taft Art Museum in May of 2012. They are the proud parents of a Golden Retriever named Morgan. In his spare time he enjoys cooking, football, and spending time with his family and friends. Dr. Franz and Molly are excited to share that their daughter, Maggie, was born on May 17, 2013!